GREASE AND GRIME HAVE MET THEIR MATCH.
The future of cleaning is here with new fantastik® Dissolve™ Concentrated Pod Kitchen Cleaner
Delivers a powerful clean while helping reduce plastic waste by 94%* with every refill (Refill vs. 32 fl oz fantastik® Sprayer Bottle)
Easy to use! Just drop one pod into the empty bottle, fill up to shoulder with warm water, twist on sprayer, and shake until pod dissolves
Tackles tough grease and grime, while enjoying a pleasant scent
Perfect for multiple hard, non-porous kitchen surfaces, sealed granite, sealed marble, stainless steel, glazed ceramic tile, chrome, sealed stone, vinyl, kitchen tile, laminate and porcelain.
DISSOLVABLE PODS FROM BRANDS YOU KNOW AND TRUST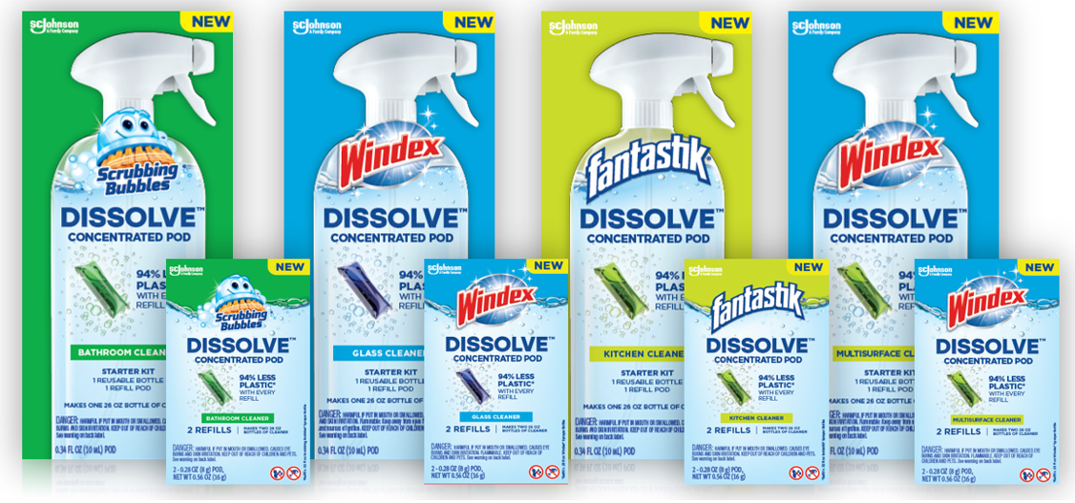 To prepare: Cut one refill pouch across the dotted line and remove pod with dry hands. Be careful to not cut or tear the pod. Place entire pod into bottle. Slowly fill bottle with 26 ounces of warm tap water. Insert sprayer into bottle and twist to tighten. Shake to help pod dissolve. Any visible pod particles will dissolve over time. Your product is now ready to clean surfaces!

Countertops

Vanity Tops

Sealed Granite

Sealed Marble

Stainless steel

Glazed Ceramic Tile

Chrome

Glass

Porcelain surfaces
Other Surfaces: Vinyl and Laminate.
DANGER: POD CONTENTS ARE HARMFUL IF PUT IN MOUTH, SWALLOWED, IN EYES, OR ON SKIN. KEEP OUT OF REACH OF CHILDREN AND PETS.
• DO NOT LET CHILDREN HANDLE PODS, EVEN IF SUPERVISED. USE POD IMMEDIATELY AFTER OPENING POUCH.
CAUSES EYE BURNS AND SKIN IRRITATION. DO NOT GET IN EYES, DO NOT INGEST. DO NOT GET LIQUID FORMULA ON SKIN OR CLOTHING. CONTAINS SURFACTANT AND SOLVENT. DO NOT MIX WITH OTHER CLEANING PRODUCTS.
FIRST AID: IF SWALLOWED: CALL A POISON CONTROL CENTER OR DOCTOR IMMEDIATELY. GIVE A GLASS OF WATER.
DO NOT INDUCE VOMITING.
IF IN EYES: HOLD EYE OPEN AND RINSE SLOWLY AND GENTLY WITH WATER FOR 15-20 MINUTES. REMOVE CONTACT LENSES, IF PRESENT, AFTER THE FIRST 5 MINUTES, THEN CONTINUE RINSING. GET MEDICAL ATTENTION.
IF ON SKIN: WASH IMMEDIATELY WITH PLENTY OF WATER. GET MEDICAL ATTENTION IMMEDIATELY IF IRRITATION PERSISTS.